Gift Certificates
Not sure what to get that special person or the one who "has everything?" Purchase a Gift Certificate from Rose Cottage Chic and let them go shopping. This way you'll feel confident they are receiving a gift they like and can use.
You can choose the following denominations: $25; $50; $75; and $100.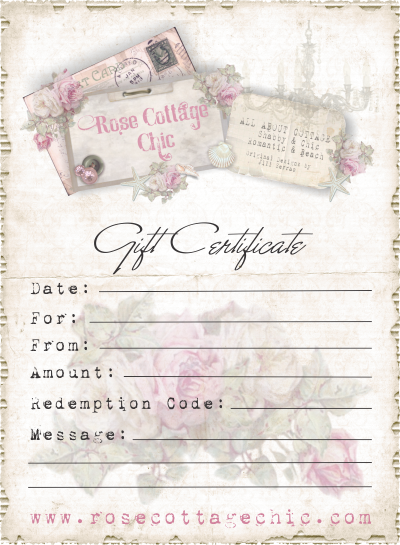 IMPORTANT: During checkout, please make sure to include the Gift Certificate Recipient's Name and any other pertinent information, so that it may be personalized.
After your purchase has been made, you will be contacted and provided with the Redemption Code for the Gift Certificate. At this time I will need to know if you wish us to send the certificate to you or directly to the recipient. You will have the option to receive a printable Gift Certificate or have it sent by regular mail. Our website address, the recipient's name, and redemption code will appear on the gift certificate so that the recipient can easily go to our website and shop.
Any questions, please contact me HERE