SHABBY, ROMANTIC, COTTAGE --- HOME DECOR >

Heart Shaped Keepsake Box ~ HP Pink Roses on Aqua ~ French Chic!



| | |
| --- | --- |
| Orig. Price: | $72.00 |
| Sale Price: | $65.00 |
| Availability: | One of a Kind Original Art |
| Prod. Code: | JS051212A |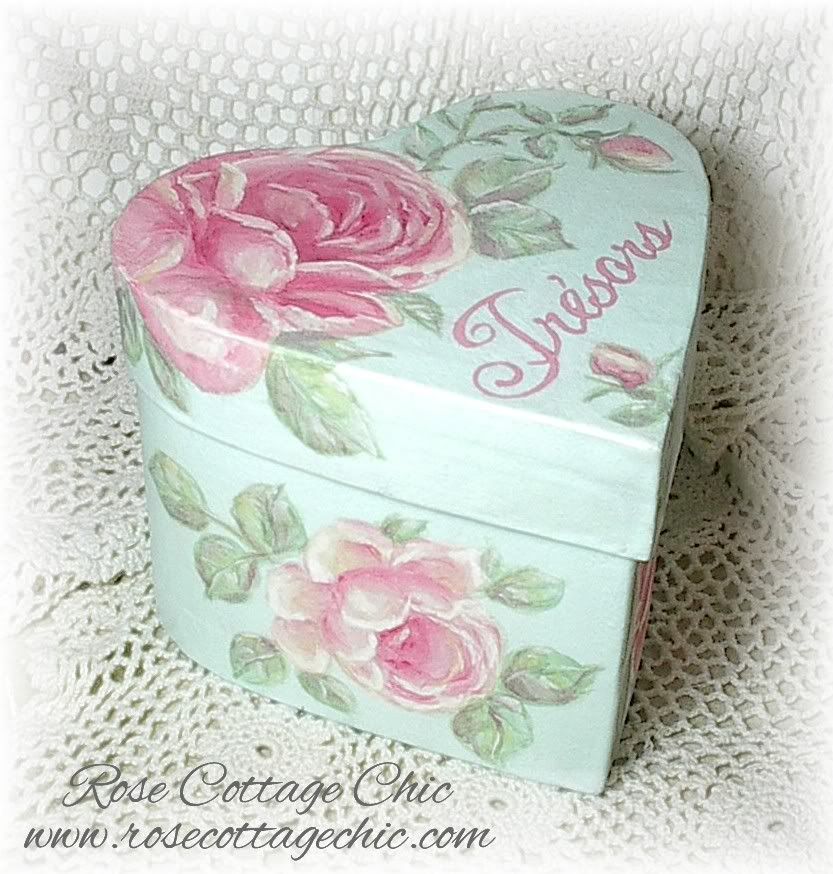 (MORE PHOTOS BELOW)
This lovely heart-shaped keepsake box is made of sturdy paper-mâché and has been painted a soft French aqua blue shade. Romantic hand painted pink roses grace the top and sides of this piece, along with the French word Trésors (Treasures).
The inside of the box has been lined with a soft cream-colored, quilted sateen fabric and edged with a pretty embroidered type trim that has small pink flowers and green garlands, with very fine tulle behind it.
This lovely, romantic piece measures 7" deep, 7½" wide, and stands 5¾" tall. Perfect for holding letters, trinkets, or other keepsakes. Artist signed by Jill Serrao.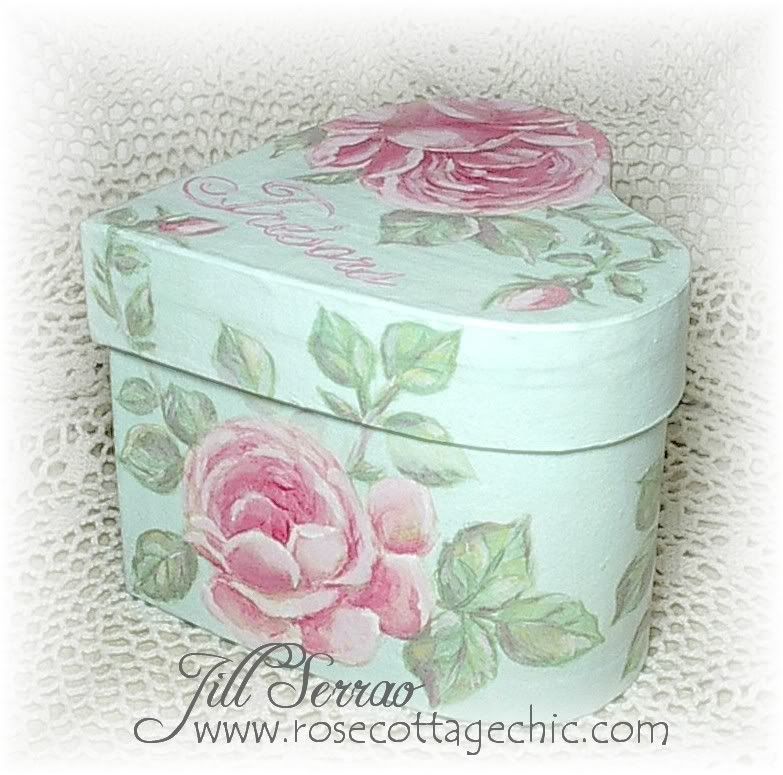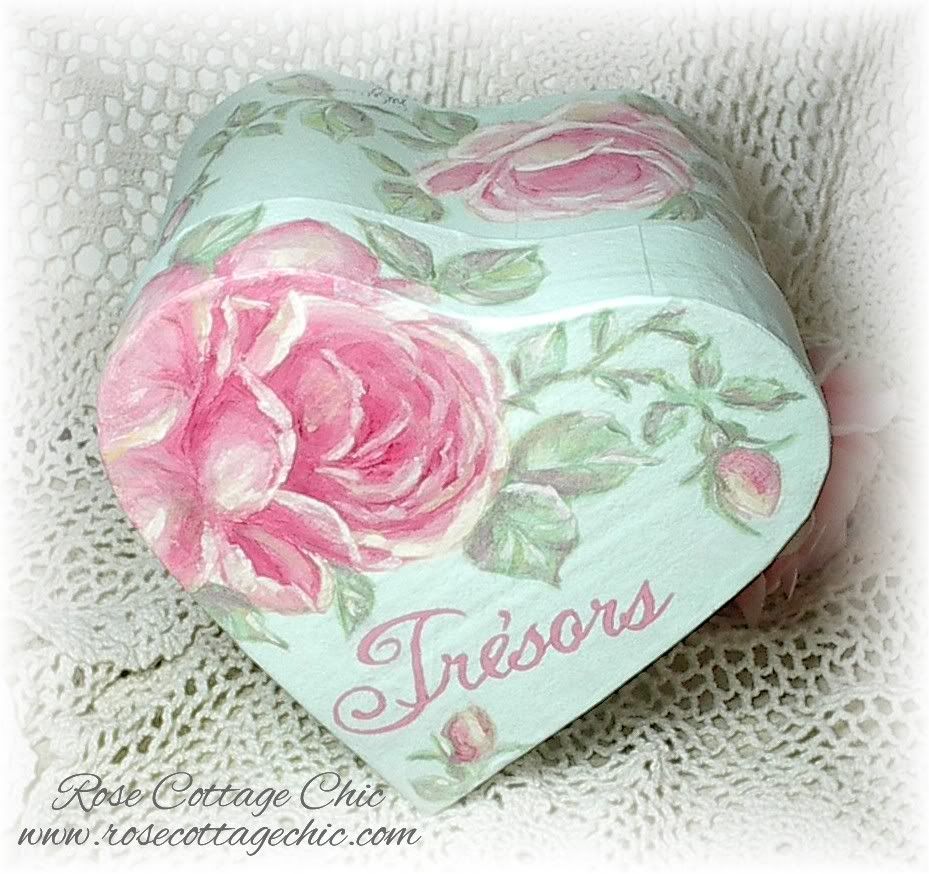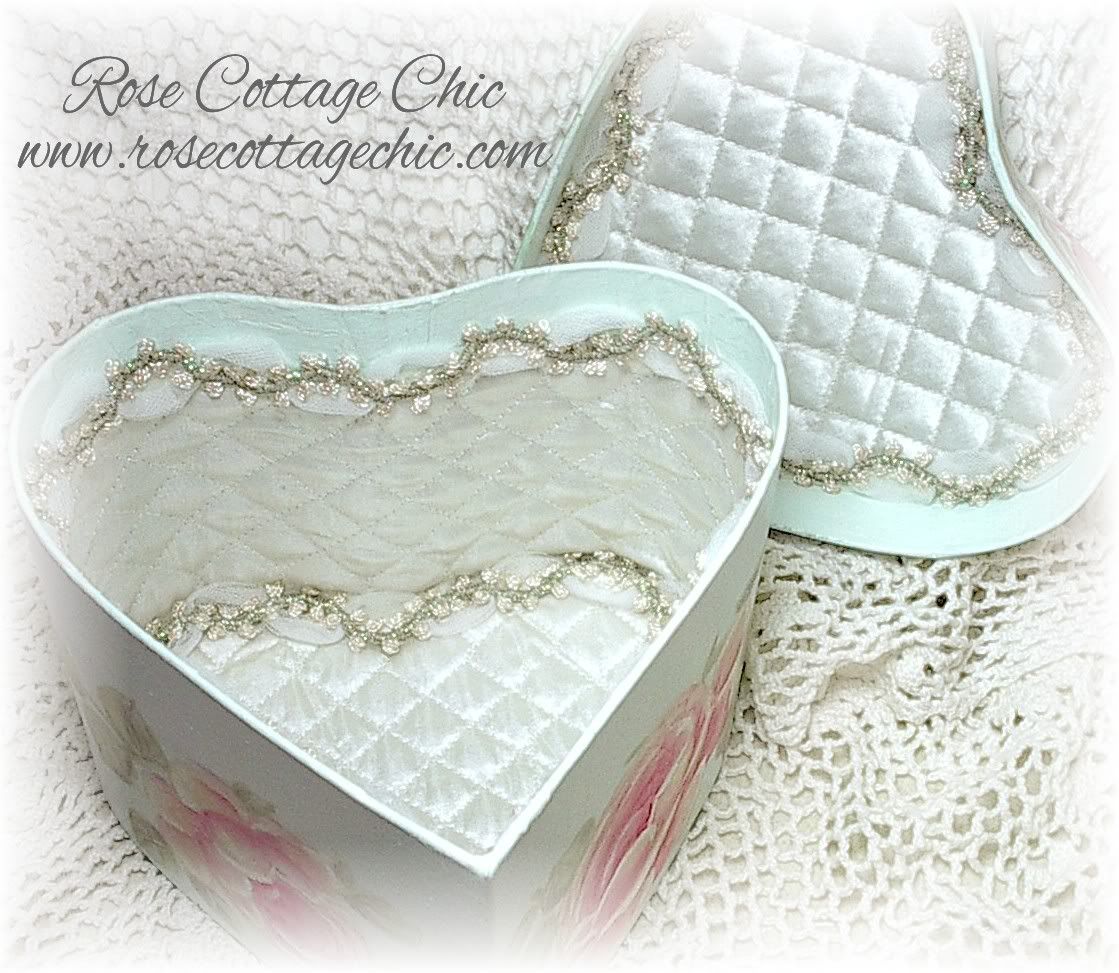 ~~~~~~~~~~~~~~~~~~~~~~~~~~~~~~~~~~~~~~~~~~~~~~~~~~~~~~~~~~~~~~~~~~~~~~~~~~~~~~
Please contact me if you have any questions about an item, shipping costs, or have a special request. If shipping appears too high, contact me. I will ALWAYS refund the difference if the shopping cart charges higher shipping than actual shipping. Thanks! :)
PLEASE NOTE:
All items in this category are ONE-OF-A-KIND. However, hand painted signs, windows, and a few other items can be reproduced to be similar to one you may have seen on the site. If you see a sign or window that has been sold and are interested in purchasing one, I can always paint one for you and do so for customers frequently. I strive to keep new items on the site, but fall behind sometimes while doing custom work and custom web designs.
Your patience and understanding is much appreciated. Please don't hesitate to email with inquiries about particular items. I'm happy to put your name on the Wish List so that if and until I come across a similar item, I can contact you.
Thanks, Jill :)

Click Below
to BOOKMARK or SHARE on Facebook,Twitter, and more
~~~~~~~~~~~~~~~~~~~~~~~~~~~~~~~~~~~~~~~~~~~~~~~~~~~~~~~~~~~~
Thanks for Visiting!
©2006-2011 Rose Cottage Chic. All rights reserved. ~ Graphics & Website Design By Rose Cottage Chic ~